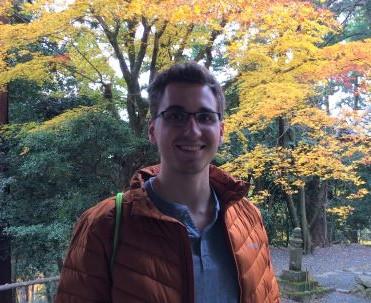 I am so glad that I decided to join Saturday's trip to Omihachiman. I was concerned that I was going to miss the fall colors because I had gotten sick and missed a trip to Kyoto, but I can clearly see now that Shiga prefecture is just as exquisitely colorful.
To begin, I'd like to give my thoughts on Ishinodera. What I was first struck by was the autumn-colored canopy visible just beyond the gate, which was also walled off by a row of rose bushes. I really couldn't help taking a photo, the colors provided the landscape with so much warmth and vibrance. As we continued circling the complex, I was captivated by the deep red of the maples overhead. The other features of the temple complimented them well, as there were green moss-covered rocks below to contrast them splendidly. I always enjoy the roof architecture of temples as well, particularly the terracotta roof tiles; I enjoyed them all the more with the maple leaves lightly adorning them. What really made this place memorable was the window looking out onto the small pond from inside the temple. While you do have to wait for people to clear the way, it is the perfect angle to look out at the autumn foliage with the reflection of the pond to add to the beauty as well.
Next, I will be discussing Hyakusaiji. What particularly stood out to me at this temple was the walk way going through the koi pond. It added a bit of entertainment to my visit since it had me stepping from stone step to stone step separated by the pond itself. The steps are within a safe distance from each other, so it doesn't present too difficult of a challenge for lesser-able people to use, and really provides a sense of immersion with the aesthetic of the pond. I even got to ring an enormous bell, not something I get to do often, and it was very satisfying. Finally, I got to see the very famous staircase leading up into the temple. I had seen a photo of the staircase during autumn in a collage of the four seasons in my dorm, and since I started studying here last September, I've idealized finding it. Truth be told, I had no idea I would be going to the staircase in that photo until I arrived at the temple. I am so glad I could experience such a quintessentially "kouyou" view.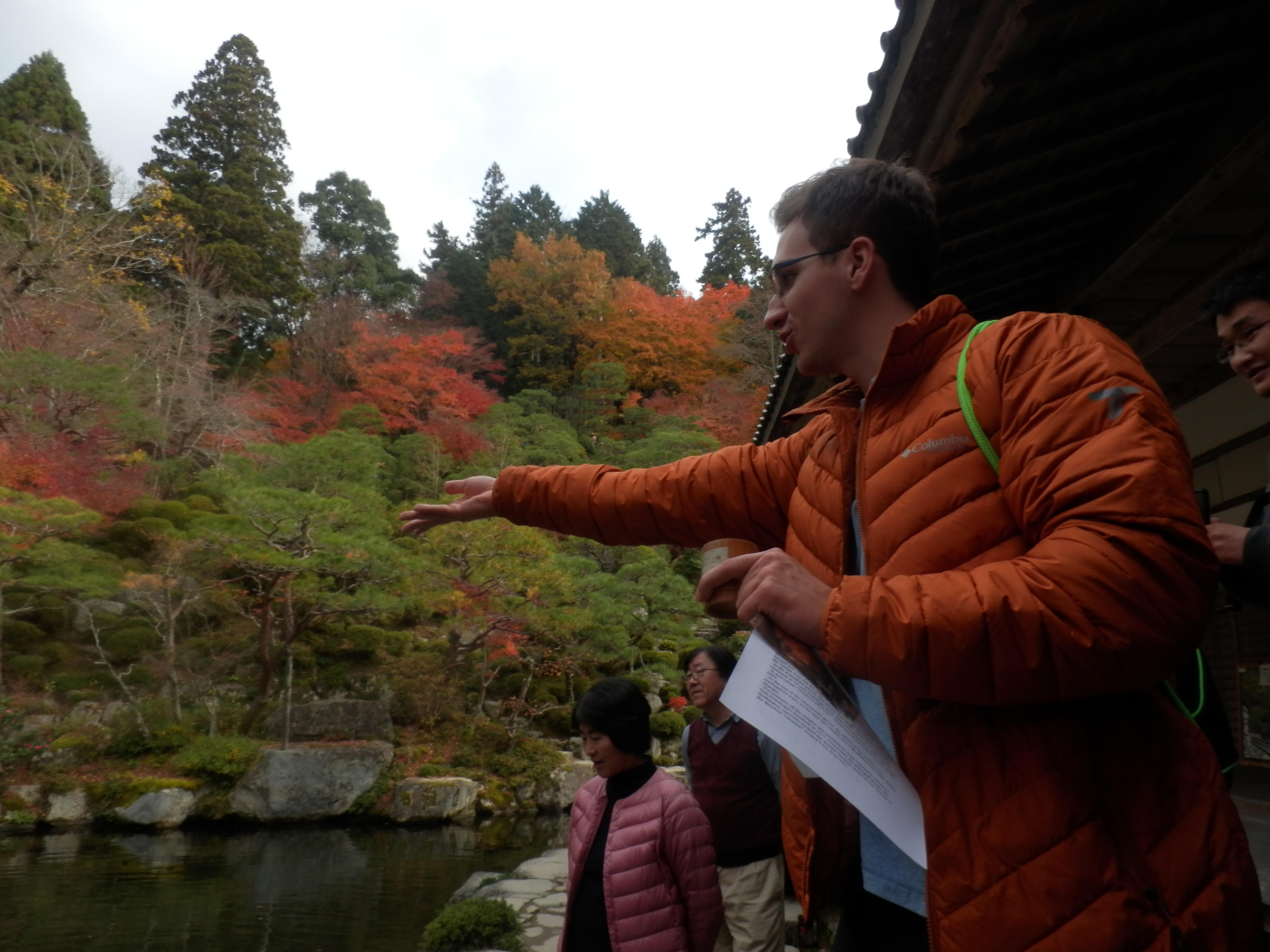 I would like to thank Shiga prefecture's tourism bureau for their kindness in allowing me to come along for this trip. I had come to Japan not only to study, but to experience the culture; specifically I sought to see Japan's take on fall, and I really felt as though these two temples had exactly that to offer.
(Author : Tom Charney from US, The Japan Center for Michigan Universities)
How toget there : Ishinodera "Kyorinbo" :
Address
1145 Ishidera, Azuchi-cho, Omi-Hachiman City, Shiga
Opening Hours
9:30 - 16:30
November 1 - December 15: Admission for viewing is possible every day for a special fall exhibition.
Only possible at weekends and on holidays outside of this period.
On other days, groups of 20 or more may be able to negotiate entry.
Inquiries
+81-748-46-5400
kyorinbo@d1.dion.ne.jp
Access
Public transportation
JR Biwako Line Azuchi Station 10 min. by taxi (car)
Website
http://www.d1.dion.ne.jp/~marche/kyourinbou/
Hyakusaiji Temple
Address
793 Nagano, Aisho Town, Echigun, Shiga
Opening Hours
Open every day
・Normal times: 9:00 - 18:00
・Dec 31: 9:00 - 17:00
・Jan 1: 12:00 - 17:00
・Jan 2: 10:00 - 17:00
・Jan 3: 10:00 - 17:00
Inquiries
+81-749-42-2080
info@fujiihonke.jp
Access
Public transportation
Ohmi Railway Main Line Echigawa Station 13 min. on foot
Website
http://www.fujiihonke.jp/index.html