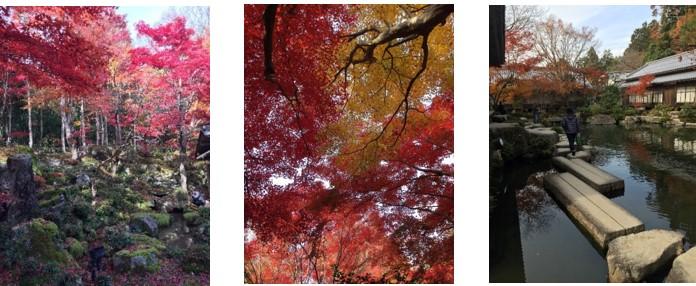 If you're looking to absorb some beautiful views, experience the peace at local temples and eat some amazing locally grown food, then a visit to Omihachiman is exactly what you need.
This time of year, in mid-late November/early December, is the perfect time to go since all of the leaves are turning stunning colours. I was really amazed at how vibrant the colours could be and there were lots of photo opportunities.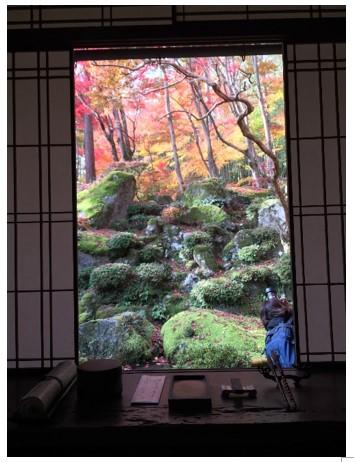 At Azuchichoishidera, the setting is so serene because the temple is surrounded by trees. First, you walk through the woods, taking in the beautiful leaves and listening to the birds singing. The path winds up to a vantage point that allows you to look down into the clearing where one of the temple buildings is nestled between the trees.
Following the path down leads you there. Inside is the shrine to the deities, and if you want to, you can write your wishes or prayers on a stick or can pray there. The path continues onwards to another temple building where you can sit and view the garden from inside. Before you reach it, the path guides you past a water feature, dripping water into a basin with a bamboo shoot beside it. If you put your ear to the shoot, you can listen to the sound of water dripping. I was surprised at the sound that I heard since it sounded like chimes!
Inside, there is a viewing window which creates a lovely frame for a photograph. Lots of people had the same idea and there was a little queue to take a picture but it was worth it!
I also visited Hyakusakiji. This was really fun because there is a walkway across the water and you can feed the fish too. The scenery here is really beautiful, it's like a little adventure walking up the little pathways. There are some stairs here but it's easy enough to get up to the top. If the weather treats you as well as it did me, then on the way up there is a really good vantage point to look out on a view over the countryside and city.
Inside the temple building at the top of the hill, there are interesting stories about historical figures in the religion. There are also miniatures of the hillside and the temple buildings which were really cool to look at.
I had been wanting to ring a temple bell, ever since arriving in Japan and I finally got my chance at Hyakusaiji. There's a bell that can be rung by visitors and it was certainly a highlight to my visit. Both temples weren't crowded and there was ample time and opportunity to dwell or move as the mood takes you!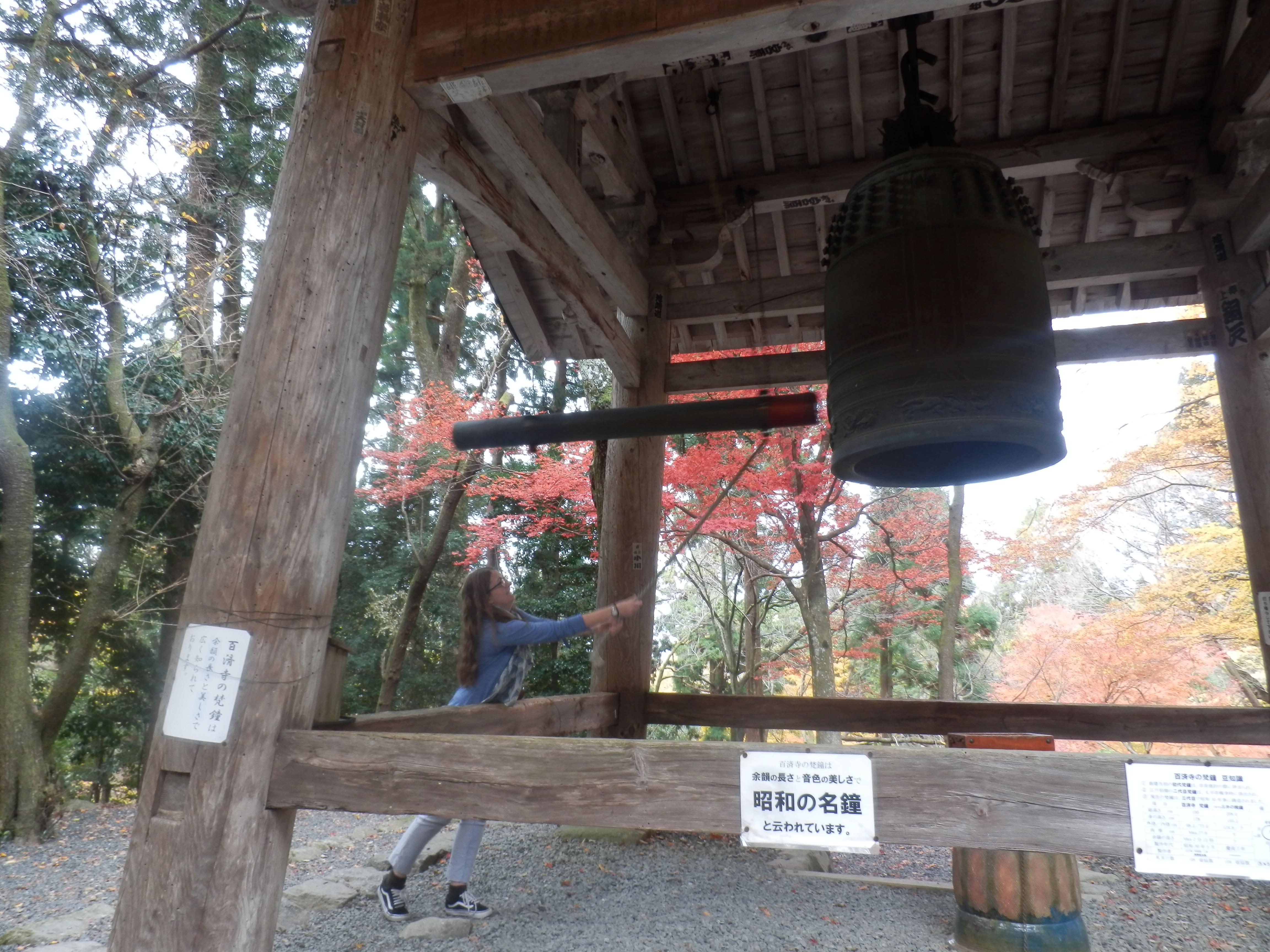 For lunch, stop at Aito Margaret Station Rest Area. They have a buffet style meal with a lot of different foods to try, all local produce. I tried a bit of everything and really enjoyed it all - my favourites were tempura vegetables, fried chicken and a thai curry but it was hard to narrow it down to just three top picks! There's also a shop there and after lunch, why not take a stroll through the fields of flowers - I wandered through the rows of sunflowers in December!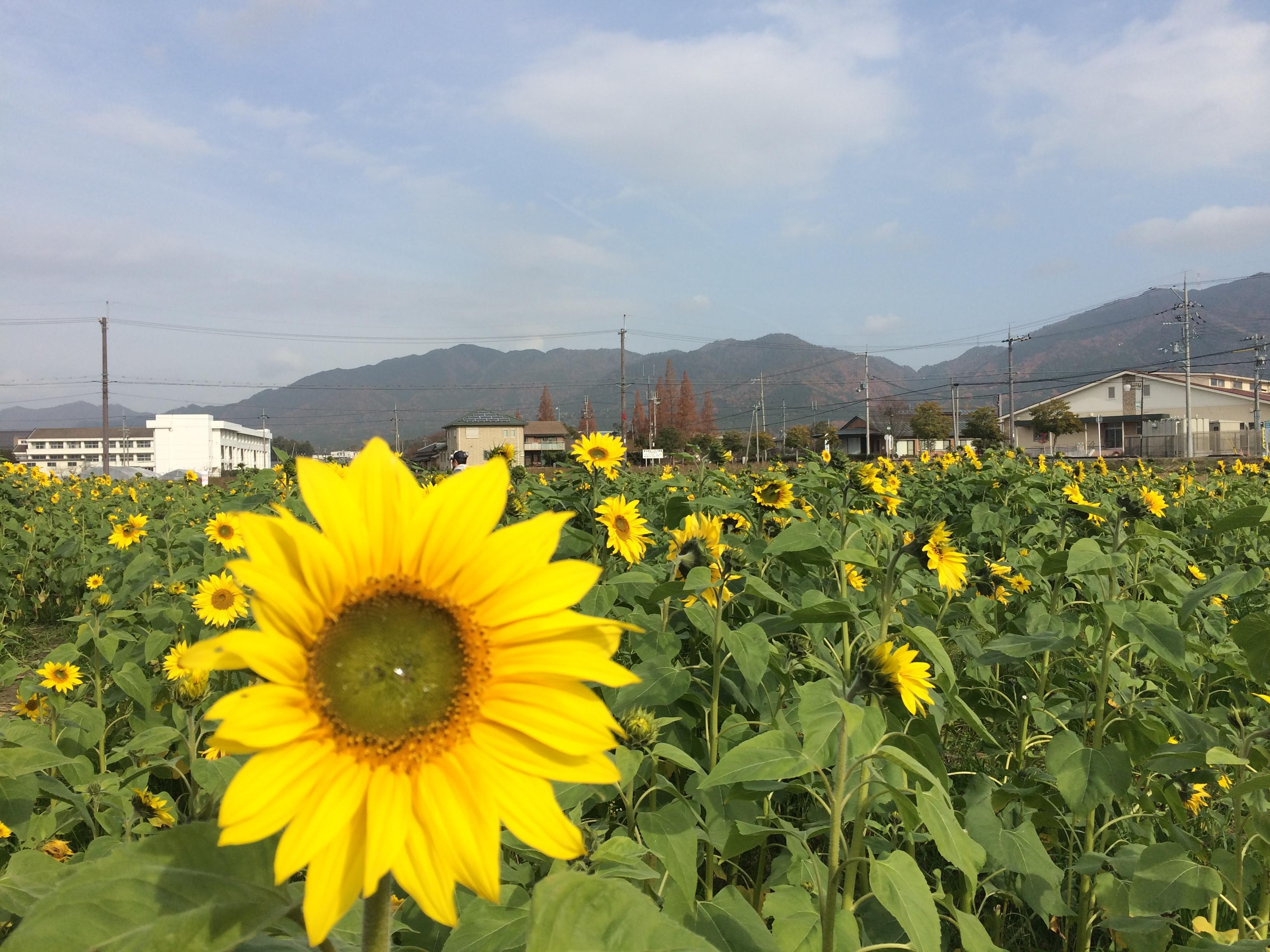 I really enjoyed walking around the temples, taking pictures and eating amazing food and I recommend it to anyone who wants to enjoy the beauty that Omihachiman has to offer.
(Author : Joeley Beckett, ALT teacher in Shiga)
Special Thanks to Interac Inc.,