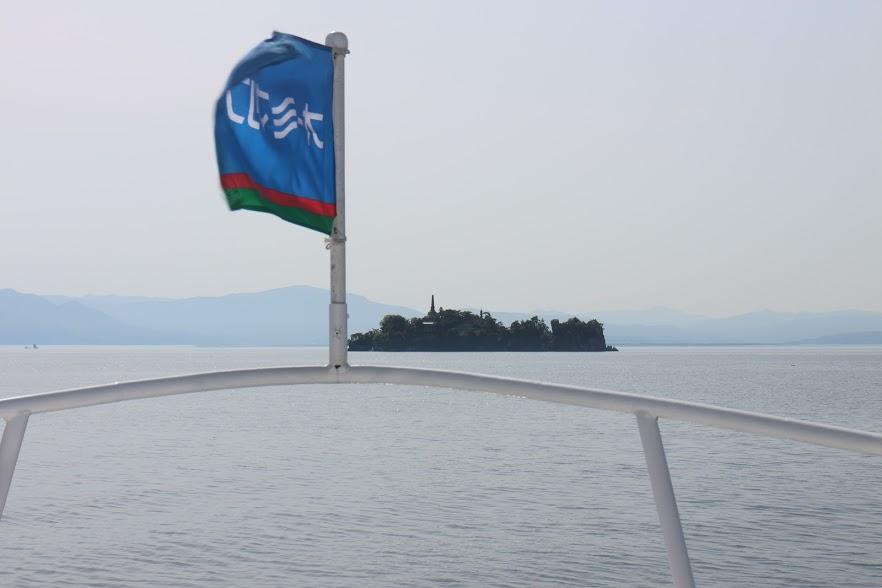 Apreciar a beleza das águas calmas ou violentas, perceber as diferentes tonalidades ao longo do ano e as montanhas que se escondem na neblina ao longe. Tudo isso faz parte de olhar para o Lago Biwa. No entanto, ver o lago de uma das ilhas é uma experiência rara e diferente, que eu finalmente pude experimentar visitando Takeshima.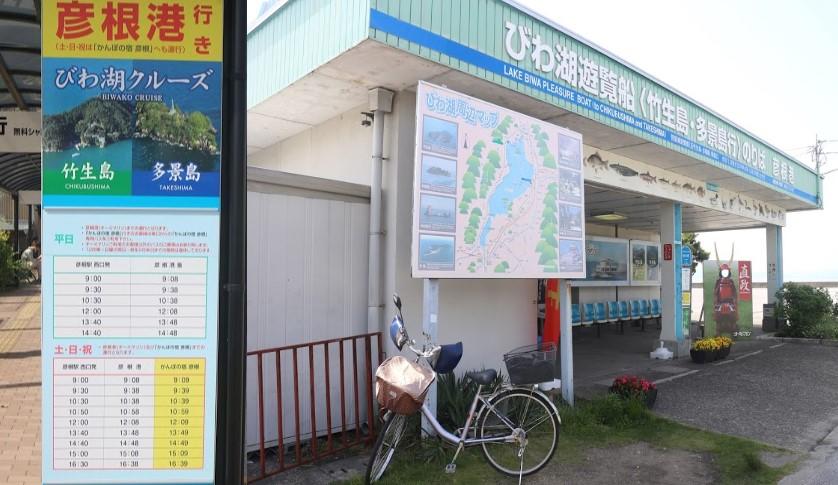 Nesse dia, começamos a viagem encontrando nosso guia na estação de Hikone. Lá vocês podem visitar o Centro de Informações Turísticas da cidade na própria estação e, dali, é uma caminhada de dois minutos para o ponto do ônibus gratuito (14:40) até o porto de Hikone, de onde você poderá embarcar para a ilha (saída às 15:10).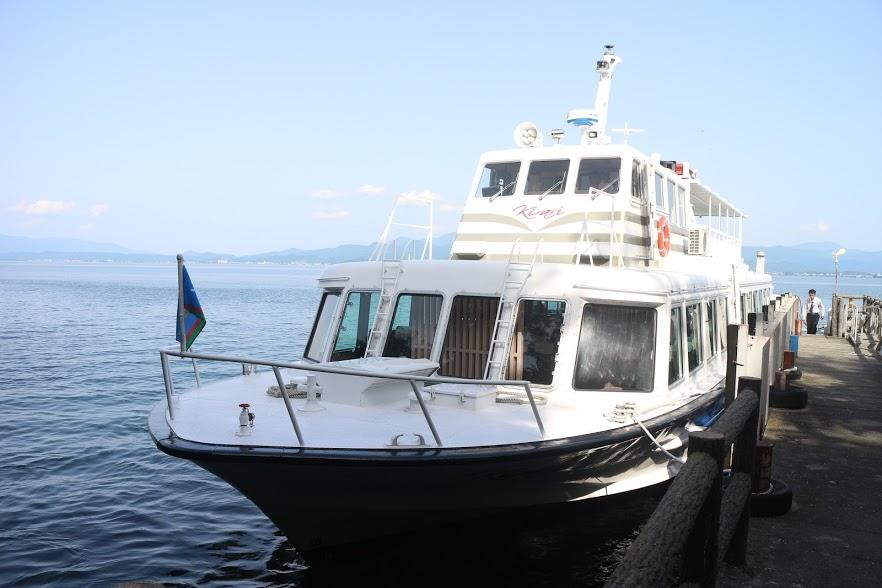 "Takeshima" significava literalmente "bambu" (take) e "ilha" (shima), nome bem fácil de entender, já que no passado havia muitos bambus por lá. Como a ilha é fina e alongada, ficou famosa por ter diversas vistas dependendo da direção da qual se olha. Manteve-se então o nome Takeshima, mas escrito com os caracteres "muitas" (ta), "paisagens" (ke) e "ilha" (shima). A "ilha das muitas paisagens", portanto.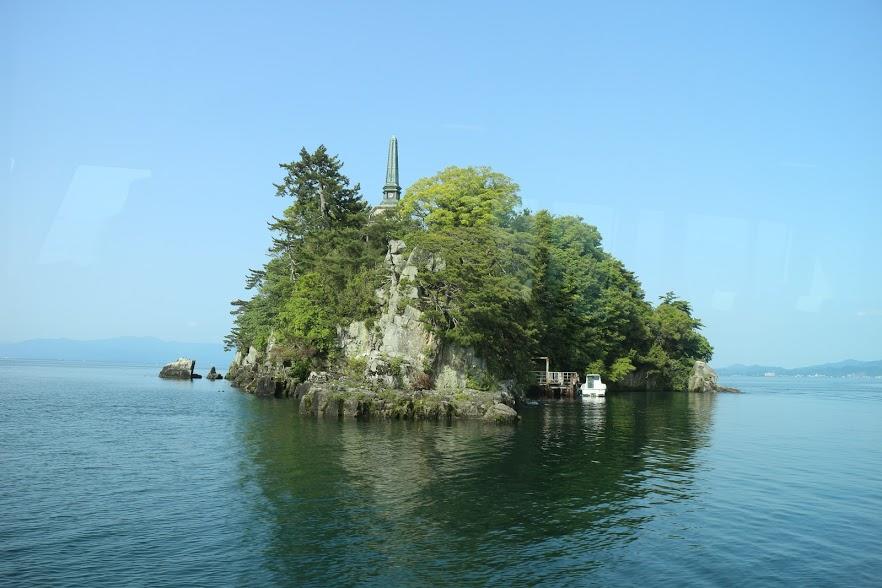 O trajeto leva apenas 20 min, mas é o suficiente para ver a paisagem do lago. Antes de aportar o barco dá uma volta na ilha e você poderá conferir por conta própria as muitas vistas e entender a razão do nome.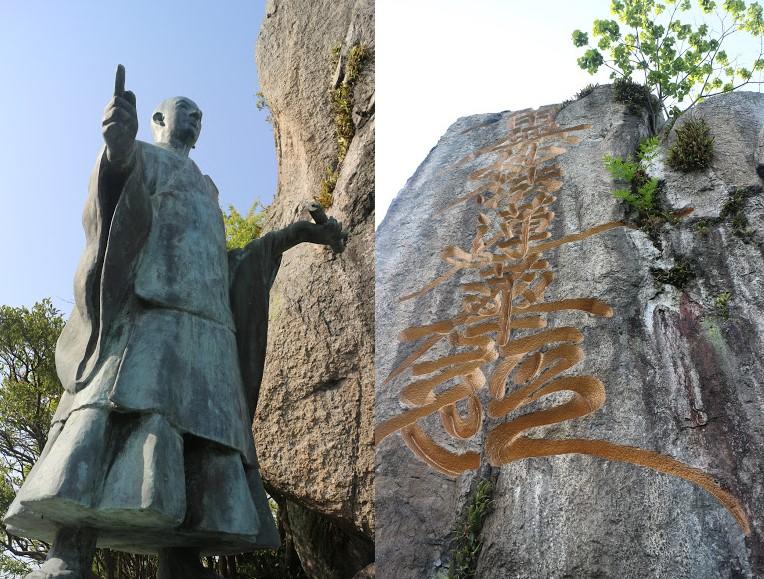 Enquanto está dando a volta, preste atenção na enorme rocha retangular. Conta a lenda que Nissei, um monge do templo Myôhôji em Nagahama, teve um sonho e soube de boatos de uma ilha deserta no Lago Biwa de onde se ouvia o Sutra da Lótus sendo entoado. Ao chegar em Takeshima, Nissei percebeu que era o lugar com o que tinha sonhado e ergueu um templo, Kentôji, passando os três anos seguintes entalhando o mantra Namu Myôhô Renge Kyô na pedra. A ilha toda é considerada sagrada.
Além da Daimokuiwa, há ainda na ilha o templo Kentôji, criado por Nissei, uma pagoda de pedra, uma estátua de bronze de Nichiren, um monumento à Carta de Juramento e vários lugares com vistas incríveis para o lago. Tudo isso trazido ao longo dos anos para a pequena ilha
Como a ilha é bem pequena, o barco fica apenas por 30 minutos e só há um horário por dia, então cuidado para não se atrasar. Há outros horários, mas só neste você pode descer na ilha.
Ohmi Marine (Cruise ship to Takeshima island) : http://www.ohmitetudo.co.jp/marine/info-takeshima.html/
(Article by Rodrigo Brinca de Jesus Limeira)
English summary
This small island on Lake Biwa houses Kentôji Temple, built by the Nichiren Buddhist monk Nissei in 1655.
Legend says Nissei had a dream and ultimately discovered it after hearing numerous rumors of a desert island from where one could hear sutras being chanted. After settling there, he spent the next three years carving the main mantra of the Lotus Sutra on a 10-meter high rock that oversees the lake. Besides said rock (called Daimokuiwa), there is a bronze statue of Nichiren, a monument to the Meiji Restoration Charter Oath, a stone pagoda and many scenic spots.
Don't forget to get that shiny seal on your temple book (go-shuincho) if you have one. Access is only possible once a day thru a 20 min boat ride from Hikone Port, so make sure to check the schedule and confirm that it is the right boat (some only circle the island). The port is accessible via a free shuttle from Hikone Station.